CFR rings are a must for swivel nut terminal designs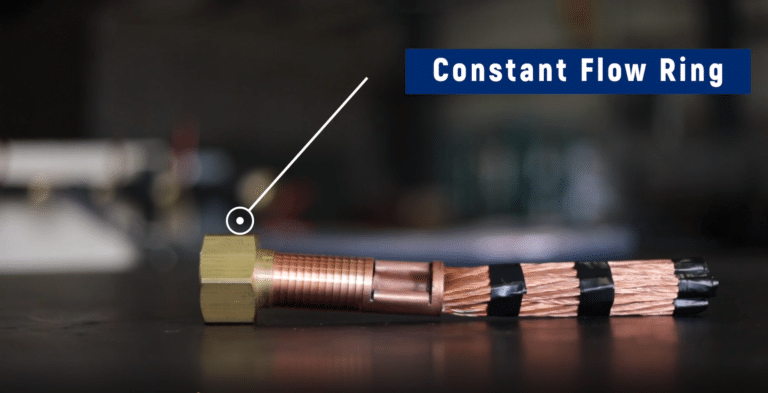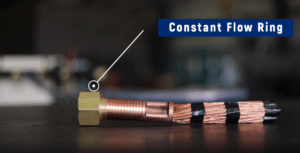 The lifeblood of any induction melting system is coolant. Loss of coolant in an induction system creates all kinds of issues, and none of them are good. We see a lot of coolant flow disasters come through the shop.
To ensure coolant flow at I2r POWER, we employ the Constant Flow Ring (CFR) in our induction power cable designs. The CFR ensures, even in a draped position or when the cable ellipses, we are going to get the ultimate flow that a conventional swivel nut cable design allows.
In a recent video we conducted a test to demonstrate this. One cable has employed CFR ring construction and the other is without the ring. During the test, the cable without the ring dropped about 30% of flow when in a draped position. See the video test and results in the Protect the Flow of Your Coolant video in the I2r POWER Video Gallery.
The evidence is clear if you want constant uninterrupted flow with a swivel nut type power cable design.  I would highly recommend you go with a Constant Flow Ring.
Eager to solve problems, I2r POWER's technical team is more than willing to help you unravel your challenges.
Have questions about this topic?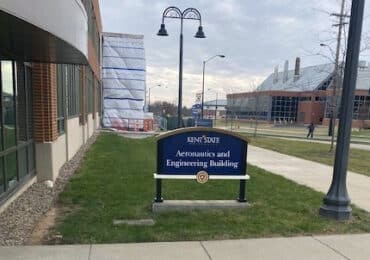 Power Cable Donation to Kent State enhances student experience I2r POWER recently provided two new sets of water-cooled power cables to the foundry and metal casting facility at Kent State University's College of Aeronautics and […]
Read More