Cable Protection in Induction Melting Applications
Protecting your induction power cables from harsh metal casting conditions is critical. Water-cooled power cables are subjected to ambient heat, molten metal splash and spills, and chafing and friction. We see a lot of used cables come through the shop showing signs of extreme wear.
A variety of protective sleeving solutions are available to metal casters to prolong cable life and avoid unexpected and expensive failures.
Thermal Glass, T-Glass or Thermoglas® – was originally developed in 1924 to protect fuel and hydraulic lines, as well as electronics on aircraft. It's a coated, woven fiberglass textile sleeve that withstands surface temperatures up to 1000° It will not burn, smolder, shrink or stretch. T-glass is also available with a reflective coating to help resist flash heat.
Silicone Fiberglass - PowerJacketTM – As good as T-glass is, it's not very good for molten metal splash. When fiberglass is coated with silicone it offers short-term protection from molten metal. Originally developed for the space program, the silicone coating will oxidize when introduced to direct molten splash--resisting heat in excess of 2000°F for several minutes. Silicone properties allow the molten metal to roll off protecting wiring, water hoses, hydraulic lines or power cables. It is available as a sleeve or with a hook and loop closure for bulkier applications.
Kevlar® – Braided and woven into sleeving, it is best for mechanical wear and tear protection where there is chafing and friction from furnace tilt action. Kevlar is a ballistic fiber with a temperature rating of 800° It doesn't melt, drip or support combustion.
See a direct flame test in this video—Cable Protection in the Worst Environments. Find it and other videos in the I2r POWER Video Gallery.
These are the most practical and generally cost-effective solutions to protect and maximize the life of your induction power cable. Our advice is to talk with your supplier about the best protective coverings for your application and environment. With these simple additions you can increase cable life and avoid unscheduled interruptions to your melt operation.
Eager to solve problems, I2r POWER's technical team is more than willing to help you unravel your challenges.
Have questions about this topic?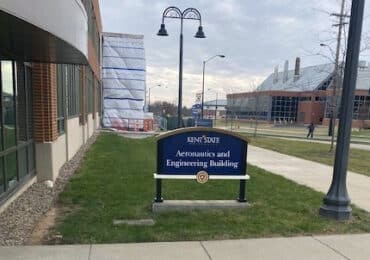 Power Cable Donation to Kent State enhances student experience I2r POWER recently provided two new sets of water-cooled power cables to the foundry and metal casting facility at Kent State University's College of Aeronautics and […]
Read More