EAF/LMF Cable Protection for Steel Makers
A lot of EAF water-cooled power cables come through the shop showing signs of extreme wear and tear.
There's no avoiding it, steel making environments are demanding on equipment. The dirt, heat, and collisions are inevitable. Typically, failed cables suffer from ambient heat, molten metal splash and spills, and chaffing and/or friction.
A variety of protective mechanical covering solutions are available to steel makers to prolong cable life and avoid unexpected, and expensive, failures.
Vulcanized Hard Rubber Bumper Hoses – are 2 to 3-inches thick, and the bumpers are constructed directly into the hose during their manufacture. They come in helical/spiral wrap or annular designs:

Helical or spiral-wrapped bumpers offer the most area of protection
Annular bumpers offer very good protection and the greatest flexibility in two different designs:

Vulcanized directly into the outer hose or
Manually installed – relies on hardware that may shift during impact

Hose over Hose Option – this double-walled option offers protection, however it is more expensive, and takes up additional space due to limited bend radius
Stainless Steel Mesh – sleeving is non-magnetic, however it is expensive and will retain heat
Our advice is to talk with your supplier about protective coverings that fit your application. With these simple additions you can increase EAF/LMF cable life and avoid unscheduled interruption to your melting operation.
I cover this topic in a video. Find it and other videos in the I2r POWER Video Gallery.
Eager to solve problems, I2r POWER's technical team is more than willing to help you unravel your challenges.
Have questions about this topic?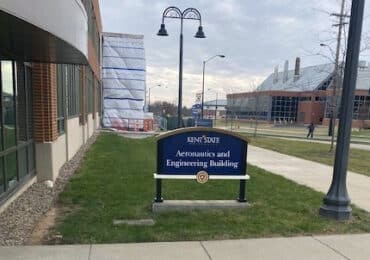 Power Cable Donation to Kent State enhances student experience I2r POWER recently provided two new sets of water-cooled power cables to the foundry and metal casting facility at Kent State University's College of Aeronautics and […]
Read More