EAF/LMF Power Cables
Engineered and hand-built for electrical efficiency
Optimal power transmission and electrical efficiency improvements are engineered into every Electric Arc Furnace (EAF) and Ladle Metallurgy Furnace (LMF) water-cooled power cable at I2r POWER. No matter your high-current application or demanding production environment, I2r POWER technicians hand-craft your water-cooled power cable for reliability and longevity.
Sizing and construction of the air- or water-cooled conductor wire package are an engineered design effort at I2r POWER. Not only do properly built internal conductor packages and core structure have electrical efficiency advantages, I2r POWER designed cables maximize flexibility and incorporate external outer hose and protective coverings to withstand your demanding production conditions.
Entirely custom built to your exact specifications, I2r POWER solutions are always a collaborative design effort. Electrical efficiency improvements are routinely made during construction or repair of any system brand, type, or application to increase durability and extend cable life.
Quality documentation is developed for all custom water-cooled cable jobs. Cables are flow, pressure, resistance-tested and visually inspected. Serial numbers are provided and photos are recorded before cables are prepared for shipping.
Whether looking for design, build, retrofit, or custom applications, I²r POWER is your best choice for EAF/LMF process power cables.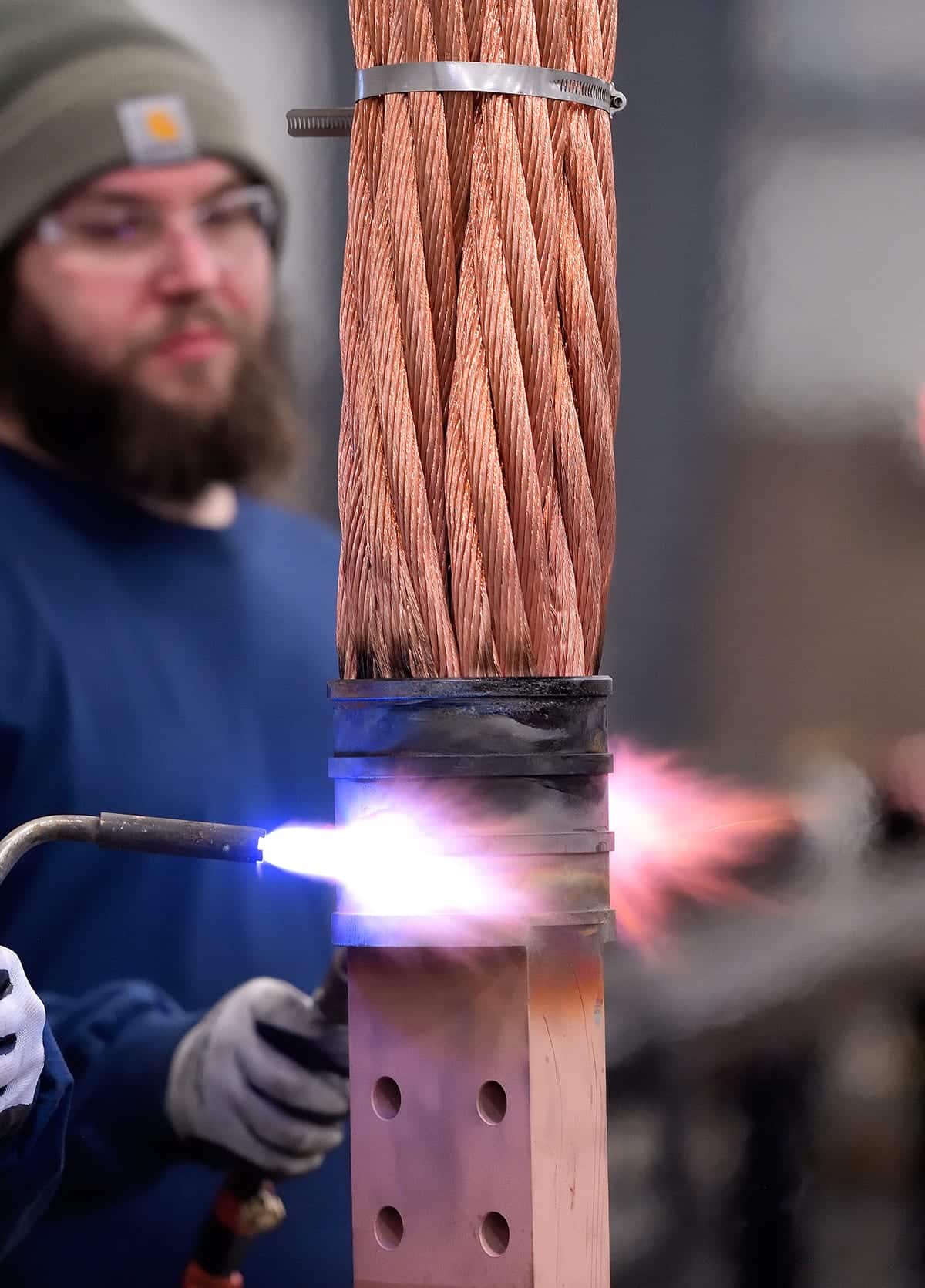 EAF/LMF Power Cable Videos
Cable Core Construction Mysteries Revealed! (2020)
Avoid EAF Cable Failure, Relieve Torsion! (2021)
Cable Protection for Steel Makers (2021)
Air- to Water-Cooled Power Cable Conversions
When production processes demand, it may be possible to convert your air-cooled cables to water-cooled power cables. Please contact Mike Pinney or Karl Schwenk for more details about cable conversions.
Quick Disconnect EAF Power Cables for Increased Safety
Safety in your production environment is a priority. Lost production time due to cable change-out is inconvenient. Hearing your concerns, I2r POWER designed E-Z Stahl™ terminals for both coolant and power. These low-stress, leak-free rotating terminals for Electric Arc Furnace (EAF) use are an engineered design effort featuring safe handling during installation and removal.
Cable Trays for Safe Storage of Spares
Storing spare cables flat is important to maintaining cable integrity until it's needed. Using cable trays and stacking trays vertically uses less space and keeps cables organized and safely out of harm's way.