50,000 Cables and Counting in 2019
Back in 2005 when I2r POWER was in its infant stage, it was hard to imagine a teenaged company boasting about building more than 50,000 power cables. Shipped all over the world, the power cables built here (on the best cable repair line in North America) are for end users and OEMs, alike. Cables are a specialty and will always be a cornerstone of growth.
At the young age of 14, the company continues to rack up milestones:
More than 50,000 power cables built or repaired as of 2019
It's now 5 years we've been in our new 25,000 sq. ft facility, complete with cranes
Since 2014, I2r POWER has made significant market inroads in ladle stirrer repair design
In the past year, I2r POWER has tripled continuous caster stirrer rebuilds
And very importantly, I2r POWER has had no lost time accidents since 2008
Just like any proud parent would observe, these achievements continue to brighten the path, and we are grateful! Your continued business over the years has helped us every step of the way. I truly appreciate you keeping I2r POWER in mind for all your power efficiency needs.
Have questions about this topic?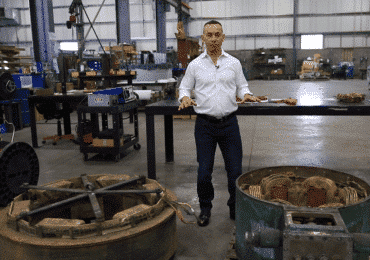 Electromagnetic caster stirrer designs vary depending on use Electromagnetic stirrers for steel applications produce very low frequency, high amplitude magnetic fields to agitate steel when molten. Steel applications include ladle stirring and stirring in continuous […]
Read More